Rail Clip Types
Rail clip is usually used in railway to fastening the steel rails. It is generally used with other
rail fasteners
, such as rail spike, tie plate, rail pad, etc.
Rail clip
functions well and it is regarded as the most useful fasteners which can secure that the rails don't move, bend, or warp. The special structure of the elastic rail clip makes it absorb the impact and shake the when the vehicles pass by.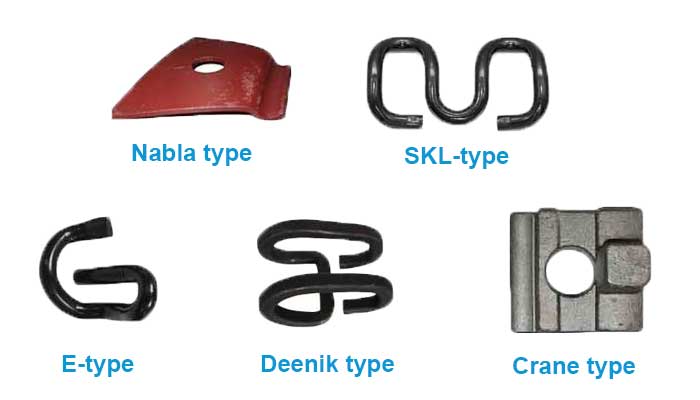 Rail Clip Types
Due to different use and application, rail clip can be classified into many types, such as E-type rail clip, SKL rail clip, Nabla rail clip, Deenik rail clip, crane clip.
E-type Rail Clip
E-type rail clip can provide durable alignment which can protect the steel rail and the fastenings from high pressure. The materials of e clip is spring steel which make e clip of high strength. There are many types of e clip: E1609, E1809, E1817, E2007, E2009, E2055, etc.
SKL Rail Clip
SKL clip, also named SKL tension clip, it includes many types such as SKL1, SKL3, SKL12, SKL14, SKL75.
Nabla Rail Clip
Nabla rail fastening system is generally used in rail fastening system. The material of nabla clip is 60Si2MnA, and the surface can be painted according to the customers.
Deenik Rail Clip
Deenik rail clip is mainly used on concrete sleepers and popularized in South America.
Crane Rail Clip
Crane rail clip is mainly used in crane rails to fasten steel rails, and it is usually used with base plate.
As a professional rail clip manufacturer, AGICO has the production capacity of 5,000,000 pieces each monthly with advanced technology and modern facilities. We can produce different types of rail clips according to the requirement of customers.
Get In Touch Now!
We receive enquiries in English, Español (Spanish), Русский язык (Russian), Français (French) and العربية (Arabic). Our professional team will reply to you within one business day. Please feel free to contact us!