Tie Plate
Railroad tie plate, also called base plate or sole plate, is a kind of steel plate used between the rails and sleepers on rail tracks. Tie plate is usually tapered on the sleepers by rail bolts or rail spikes through the holes in the plate. Generally tie plate is usually tapered at each end of rails to ensure the stability and hold the rail to correct gauge. The use of rail tie plates extends the service lifetime of rails and ensures the safety of passengers and railway workers. Whether on wooden sleepers or concrete sleepers, rail tie plates play an irreplaceable function in fastening the rails.
Specification of Rail Tie Plate
Model
Application
Material
Unit Weight
Export Destination
115RE Tie plate
AREMA 115RE rail
Q235 or
QT400-15
10.6kg/pc
USA
132/136RE
Tie plate
AREMA 132RE rail
AREMA 136RE rail
Q235 or
QT400-15
11-12kg/p
USA
115D Tie plate
AREMA 115D rail
Q235 or
QT400-15
28.8kg/pc
USA
100-8B Tie plate
AREMA 100-8B rail
Q235 or
QT400-15
26kg/pc
USA
S49 Tie plate
S49 rail
QT450-10
QT400-15
Q235
7.57kg/pc
Model
Application
Specification
Material
Standard
Unit Weight
Export Destination
TYPE-D
Subway tie plate
1/4"*8"*19-1/2"
Hot rolled carbon steel
ASTM-A36
H.R.1020.
USA
TYPE-19-A
Subway tie plate
1/4"*8"*19-1/2"
Hot rolled carbon steel
ASTM-A36
H.R.1020.
USA
01-63-14
Subway tie plate
20#
4.53kg/pc
USA
01-63-13
Subway tie plate
20#
5.65kg/pc
USA
Base Plate
GB38kg rail
Q235 or
QT400-15
QT450-10
8.5kg/pc
Types of Railroad Tie Plate
Single Shoulder Tie Plate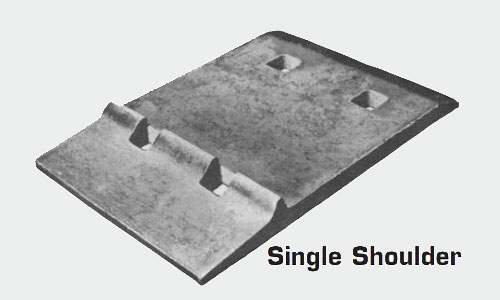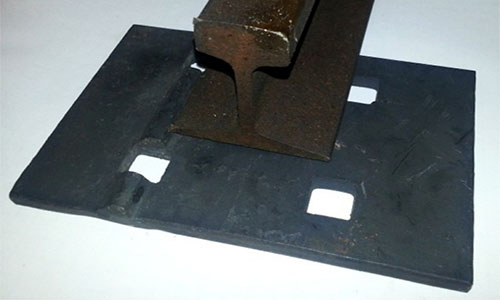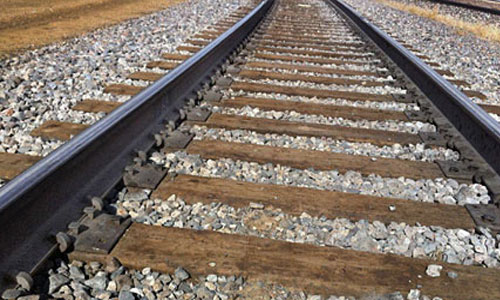 Single shoulder tie plate has only one raised edge, which is used to fit against one end of the rail. Single shoulder tie plate is usually in the rails which weight ranges from 56lb to100 lb.
Double Shoulder Tie Plate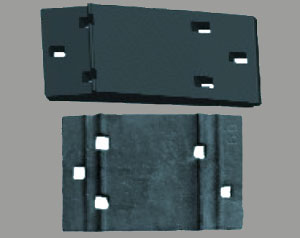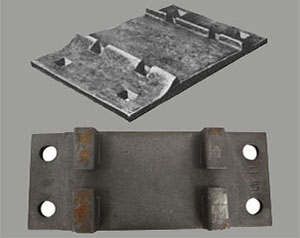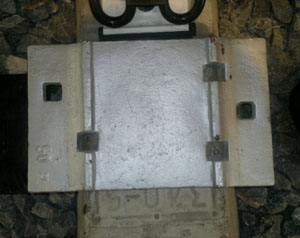 Double shoulder tie plate has two raised edges and the sunken bed in the middle is used to match the rail. The rail must fit the plate properly between the two shoulders. This kind of tie plate is mainly applied for the rails larger than 100lb. There are different types of double shoulder tie plate, such as 2-hole, 4-hole, 5-hole, 6-holes or 8-hole all are available.
Hook Twin Tie Plate
Hook twin tie plate is used in the turnout position behind the switch bottom. They are usually used in pairs to fasten the single tie, and it can also ensure the tie spacing. Among the varieties of hook twin tie plate, the 3/4'' and 1'' thick varieties are very popular in Northern America.
Different varieties of hook twin tie plate:
For 3/4'' hook twin tie plate: L23, L27, L31, LR23, LR27, LR31, H23, H27, H31.
For 1'' hook twin tie plate: L29, L33, L37, LR28, LR32, LR36, H29, H33, H37, H41.
The 3/4'' and 1'' are most popularized in North America. We have a modern producing line with advanced equipments and our production capacity can reach 1000MTS annually.
Casting Rail Tie Plate
Casting rail sole plate is producing by the casting technology, adopting the raw material of carbon steel.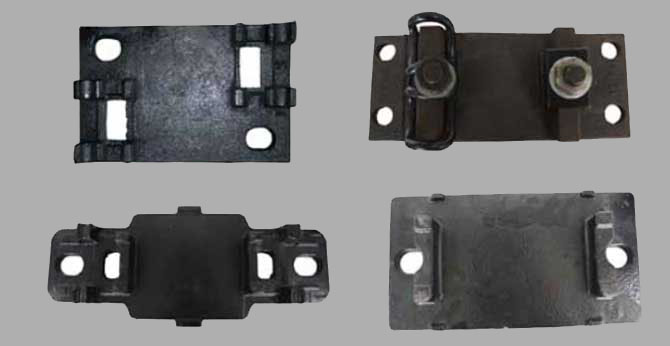 Specification of Casting Rail Tie Plate
Type
for rail UIC54, UIC60, 50kg rail, 60kg rail, S49 and size as ordered
Material- forged carbon steel
QT500-7
QT450-10
Chemical composition (%)
C:3.60-3.80, Mn:≤0.6,
Si:2.50-2.90, P:≤0.08,
S:≤0.025
C:3.40-3.90, Mn:0.2-0.5,
Si:2.70-3.00, P:≤0.07,
S:≤0.03
Surface
plain (oiled)
Standard refers
UIC864-6
Other Types of Rail Base Plate
We are capable of producing all types of rail base plate, whether standard or customized according to the customer's drawings or samples or other technical specifications.


Specifications of Popular Rail Tie Plate

| Type | Dimension | Holes | Incline | Rail | Weight(Kg) |
| --- | --- | --- | --- | --- | --- |
| Rph 1/160 | Rph 1/160 | Ø 26 (4x) | 1:40 | S 49/S 54 | 7,86 |
| Rp 01/01/160 | 345/285/127/160x15/13 | Ø 26 (4x) | 1:40 | S 49/S 54 | 7,70 |
| Rph 1/210 | 345/285/127x210x15/13 | Ø 26 (4x) | 1:40 | S 49/S 54 | 10,55 |
| Rph 1/210 | 345/285/127x210x15/13 | Ø 36,3 (2x) | 1:40 | S 49/S 54 | 10,55 |
| Rph 1/210 FVZ | 345/285/127x210x15/13 | Ø 26 (4x) | 1:40 | S 49/S 54 | 10,69 |
| Sph 1(a) | 345/350/127x410x15/13 | Ø 26 (8x) | 1:40 | UIC 60 | 20,60 |
| Rph 6/160 | 370/310/152x160x15/13 | Ø 26 (4x) | 1:40 | UIC 60 | 8,44 |
| Rph 6/210 | 370/310/152x210x15/13 | Ø 26 (4x) | 1:40 | UIC 60 | 11,32 |
| SZ 60 | 370/350/152x420x15/13 | Ø 26 (8x) | 1:40 | UIC 60 | 22,73 |
| Rph 11 Ü | 664/554x160 | Ø 26 (4x) | 1:40 | S 54 | 15,37 |
| Rph 13 Ü | 690/570x160 | Ø 26 (4x) | 1:40 | UIC 60 | 15,27 |
| Rpo 5 | 345/285/127x160x15/13 | Ø 26 (4x) | 1:20 | S 49/S54 | 8 |
Detailed Functions of Railroad Tie Plate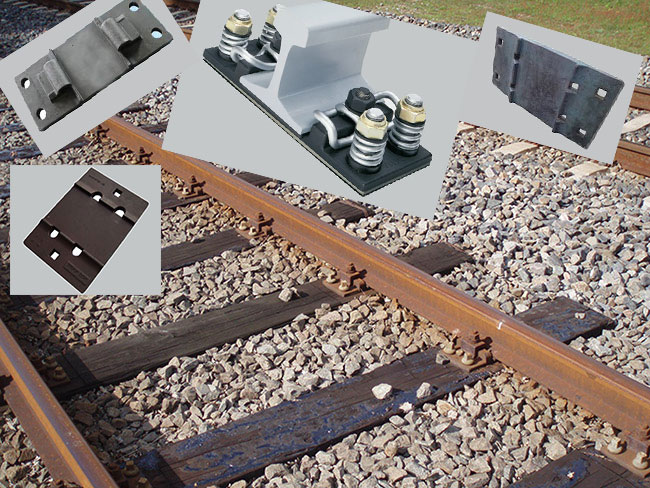 Fasten the Rails and Sleepers
Tie plate is an irreplaceable component in fastening the rails and sleepers, and it provides a solid foundation of the rails and reduces the abrasion damage of the sleepers. With the help of rail spikes and other fastening components, rail tie plates can fix the rail tracks properly and prolong the service life of rails and sleepers.
Keep the Correct Rail Gauge
Consider of the force caused by the weight of passengers and the train, the rail may deviate from the original track slightly. It is tie plates together with sleepers which fasten the rails tightly so that the trains can run safely on the tracks. It is also vital for the railway workers to inspect and repair the railroad regularly, especially for the replacement of rail spikes, tie plates or other fastening accessories after using for a period of time.
Distribute the Weight Forced on the Rail
Railroad tie plates can evenly distribute the weight of the train, cargo or passengers. The use of tie plates helps to reduce the friction between the rails and ties, and makes the sleepers last longer. With tie plates, the rails can bear the pressure evenly so that they can maintain a smoother surface.
Rail tie plates play an important role in securing the safety of railway and passengers. It has the function of supporting the rails and protecting the sleepers. AGICO can provide you with high quality and reliable rail tie plate and all of our products are inspected by a full set of inspection facilities in quality center. Both standard and customized rail base plates are available according to your drawing and sample.
Get In Touch Now!
We receive enquiries in English, Español (Spanish), Русский язык (Russian), Français (French) and العربية (Arabic). Our professional team will reply to you within one business day. Please feel free to contact us!